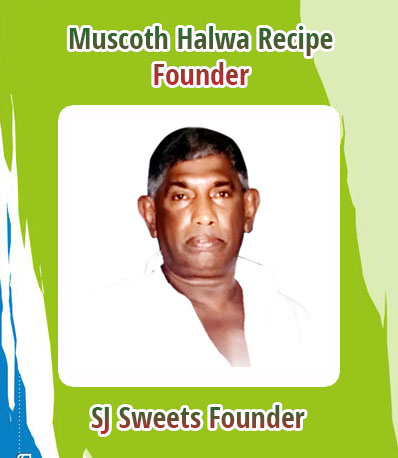 Our Grandfather, (A. Joseph), was the one who introduced this renowned sweet recipe. Coconut milk taken from handpicked and choicest coconuts is the main ingredient in our Muscoth Halwa. As coconut milk is extracted from fresh coconut kernel without any chemical processes, you would find the purest form of coconut oil in Muscoth Halwa, which is as good as mother's milk. And so, once you are done eating, you can pass your tongue over to those oily fingers and clean them.

While buying Muscoth Halwa you must look for our grandfather, A. Joseph's picture on the outer cover so that you do not end up buying a duplicate one. We guarantee to serve you in the best way. Yummy and sweet are the buzzwords that define SJ Muscoth Halwa. We are viewed as one of two famous and original Muscoth Halwa manufacturers."

Sweets give a special touch to all happy occasions. In India, sweets form an integral part of celebrations, be it marriage, the birth of a child or festival. We, at SJ Sweets, have been trying to make every occasion a special one with our Muscoth Halwa. At SJ Sweets, we have been preparing Muscoth Halwa for generations in a traditional way by giving hygiene the top priority. So the next time you get an urge to eat, make sure that it is from SJ Sweets. Before concluding on the taste of Muscoth Halwa you must look for an opportunity to taste SJ Muscoth Halwa.